Vietnam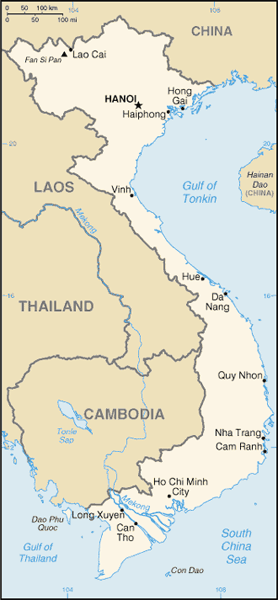 Background:
The conquest of Vietnam by France began in 1858 and was completed by 1884. It became part of French Indochina in 1887. Vietnam declared independence after World War II, but France continued to rule until its 1954 defeat by communist forces under Ho Chi MINH. Under the Geneva Accords of 1954, Vietnam was divided into the communist North and anti-communist South. US economic and military aid to South Vietnam grew through the 1960s in an attempt to bolster the government, but US armed forces were withdrawn following a cease-fire agreement in 1973. Two years later, North Vietnamese forces overran the South reuniting the country under communist rule. Despite the return of peace, for over a decade the country experienced little economic growth because of conservative leadership policies, the persecution and mass exodus of individuals – many of them successful South Vietnamese merchants – and growing international isolation. However, since the enactment of Vietnam's "doi moi" (renovation) policy in 1986, Vietnamese authorities have committed to increased economic liberalization and enacted structural reforms needed to modernize the economy and to produce more competitive, export-driven industries. The communist leaders, however, maintain control on political expression and have resisted outside calls to improve human rights. The country continues to experience small-scale protests from various groups – the vast majority connected to land-use issues, calls for increased political space, and the lack of equitable mechanisms for resolving disputes. Various ethnic minorities, such as the Montagnards of the Central Highlands and the Khmer Krom in the southern delta region, have also held protests.
Location:
Southeastern Asia, bordering the Gulf of Thailand, Gulf of Tonkin, and South China Sea, as well as China, Laos, and Cambodia
Area:
331,210 sq km
Climate:
Tropical in south; monsoonal in north with hot, rainy season (May to September) and warm, dry season (October to March)
Ethnic groups:
Kinh (Viet) 85.7%, Tay 1.9%, Thai 1.8%, Muong 1.5%, Khmer 1.5%, Mong 1.2%, Nung 1.1%, Hoa 1%, other 4.3% (2009 est.)
Languages:
Vietnamese (official), English (increasingly favored as a second language), some French, Chinese, and Khmer, mountain area languages (Mon-Khmer and Malayo-Polynesian)
Religions:
Buddhist 7.9%, Catholic 6.6%, Hoa Hao 1.7%, Cao Dai 0.9%, Protestant 0.9%, Muslim 0.1%, none 81.8% (2009 est.)
Population:
98,721,275 (July 2020 est.)
Country comparison to the world: 16
Age structure:
0-14 years: 22.61% (male 11,733,704/female 10,590,078)
15-24 years: 15.22% (male 7,825,859/female 7,202,716)
25-54 years: 45.7% (male 22,852,429/female 22,262,566)
55-64 years: 9.55% (male 4,412,111/female 5,016,880)
65 years and over: 6.91% (male 2,702,963/female 4,121,969) (2020 est.)
Government type:
Communist state
Capital:
Hanoi (Ha Noi)
Time difference:
UTC+7 (12 hours ahead of Washington, DC during Standard Time)
Independence:
2 September 1945 (from France)
Economy – overview:
Vietnam is a densely-populated developing country that has been transitioning from the rigidities of a centrally-planned economy since 1986. Agriculture's share of economic output has continued to shrink from about 25% in 2000 to less than 22% in 2012, while industry's share increased from 36% to nearly 41% in the same period. State-owned enterprises account for roughly 40% of GDP. Poverty has declined significantly, and Vietnam is working to create jobs to meet the challenge of a labor force that is growing by more than one million people every year. The global recession hurt Vietnam's export-oriented economy, with GDP in 2012 growing at 5%, the slowest rate of growth since 1999. In 2012, however, exports increased by more than 18%, year-on-year; several administrative actions brought the trade deficit back into balance.
GDP (purchasing power parity):
$648.7 billion (2017 est.)
GDP – per capita (PPP):
$6,900 (2017 est.)
Source:
CIA World Factbook