Qatar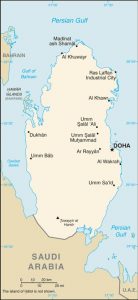 Background:
Ruled by the Al Thani family since the mid-1800s, Qatar transformed itself from a poor British protectorate noted mainly for pearling into an independent state with significant oil and natural gas revenues. During the late 1980s and early 1990s, the Qatari economy was crippled by a continuous siphoning off of petroleum revenues by the Amir, who had ruled the country since 1972. His son, the current Amir HAMAD bin Khalifa Al Thani, overthrew the father in a bloodless coup in 1995. In 2001, Qatar resolved its longstanding border disputes with both Bahrain and Saudi Arabia. As of 2007, oil and natural gas revenues had enabled Qatar to attain the highest per capita income in the world. Qatar has not experienced the level of unrest or violence seen in other Near Eastern and North African countries in 2010-11, due in part to its immense wealth. Qatar's international image is bolstered in part by the Doha-based Al Jazeera news network, which has provided comprehensive coverage of the Near East and North African Arab revolutions. Additionally, Qatar played a significant role in the Libyan revolution by pressing the Gulf Cooperation Council and the Arab League to assist the Libyan rebel movement.
Location:
Middle East, peninsula bordering the Persian Gulf and Saudi Arabia
Area:
11,586 sq km
Climate:
Arid; mild, pleasant winters; very hot, humid summers
Ethnic groups:
Non-Qatari 88.4%, Qatari 11.6% (2015 est.)
Languages:
Arabic (official), English commonly used as a second language
Religions:
Muslim 67.7%, Christian 13.8%, Hindu 13.8%, Buddhist 3.1%, folk religion <.1%, Jewish <.1%, other 0.7%, unaffiliated 0.9% (2010 est.)
Population:
2,444,174 (July 2020 est.)
Country comparison to the world: 143
Age structure:
0-14 years: 12.84% (male 158,702/female 155,211)
15-24 years: 11.78% (male 203,703/female 84,323)
25-54 years: 70.66% (male 1,439,364/female 287,575)
55-64 years: 3.53% (male 66,561/female 19,600)
65 years and over: 1.19% (male 19,067/female 10,068) (2020 est.)
Government type:
Absolute monarchy
Capital:
Doha
Time difference:
UTC+3 (8 hours ahead of Washington, DC during Standard Time)
Economy – overview:
Qatar has prospered in the last several years with continued high real GDP
growth. Throughout the financial crisis Qatari authorities sought to protect the
local banking sector with direct investments into domestic banks. GDP had
rebounded in 2010 largely due to the increase in oil prices, and 2011's growth
was supported by Qatar's investment in expanding its gas sector. GDP slowed
to 6.3% in 2012 as Qatar"s gas sector expansion moved toward completion.
Economic policy is focused on developing Qatar"s nonassociated natural gas
reserves and increasing private and foreign investment in non-energy sectors,
but oil and gas still account for more than 50% of GDP, roughly 85% of export
earnings, and 70% of government revenues. Oil and gas have made Qatar the
world"s highest per-capita income country and the country with the lowest
unemployment. Proved oil reserves in excess of 25 billion barrels should
enable continued output at current levels for 57 years. Qatar"s proved reserves
of natural gas exceed 25 trillion cubic meters, more than 13% of the world total
and third largest in the world. Qatar"s successful 2022 world cup bid will likely
accelerate large-scale infrastructure projects such as Qatar"s metro system,
light rail system, and the Qatar-Bahrain causeway. The Hamad International
Airport is projected to open by the end of 2013 with an annual passenger
capacity of 24 million.
GDP (purchasing power parity):
$339.5 billion (2017 est.)
GDP – per capita (PPP):
$124,100 (2017 est.)
Source:
CIA World Factbook