Nepal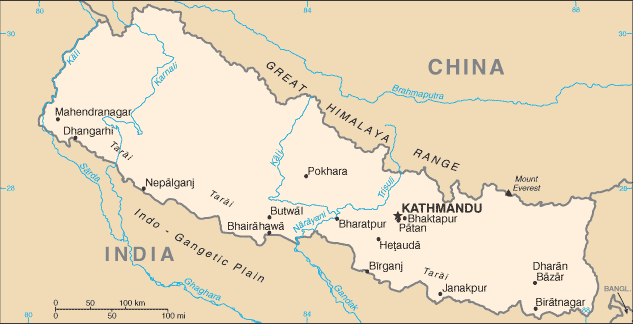 Background:
In 1951, the Nepali monarch ended the century-old system of rule by hereditary premiers and instituted a cabinet system of government. Reforms in 1990 established a multiparty democracy within the framework of a constitutional monarchy. An insurgency led by Maoist extremists broke out in 1996. The ensuing 10-year civil war between insurgents and government forces witnessed the dissolution of the cabinet and parliament and assumption of absolute power by the king. Several weeks of mass protests in April 2006 were followed by several months of peace negotiations between the Maoists and government officials, and culminated in a November 2006 peace accord and the promulgation of an interim constitution. Following a nationwide election in April 2008, the newly formed Constituent Assembly (CA) declared Nepal a federal democratic republic and abolished the monarchy at its first meeting the following month. The CA elected the country's first president in July. Between 2008 and 2011 there have been four different coalition governments, led twice by the United Communist Party of Nepal-Maoist, which received a plurality of votes in the Constituent Assembly election, and twice by the Communist Party of Nepal-United Marxist-Leninist. In August 2011, Baburam BHATTARAI of the United Communist Party of Nepal (Maoaist) became prime minister. After the CA failed to draft a constitution by the May 2012 deadline, BHATTARAI dissolved the CA and called for new elections. Months of negotiations failed to produce a new election date. Finally, in March 2013, the chief justice of Nepal's Supreme Court, Khil Raj REGMI, was sworn in as Chairman of the Interim Council of Ministers for Elections to lead an interim government and charged with holding Constituent Assembly elections by December 2013.
Location:
Southern Asia, between China and India
Area:
Total: 147,181 sq km
country comparison to the world: 96
Climate:
Varies from cool summers and severe winters in north to subtropical summers and mild winters in south
Ethnic groups:
Chhettri 16.6%, Brahman-Hill 12.2%, Magar 7.1%, Tharu 6.6%, Tamang 5.8%, Newar 5%, Kami 4.8%, Muslim 4.4%, Yadav 4%, Rai 2.3%, Gurung 2%, Damai/Dholii 1.8%, Thakuri 1.6%, Limbu 1.5%, Sarki 1.4%, Teli 1.4%, Chamar/Harijan/Ram 1.3%, Koiri/Kushwaha 1.2%, other 19% (2011 est.)
Languages:
Nepali (official) 44.6%, Maithali 11.7%, Bhojpuri 6%, Tharu 5.8%, Tamang 5.1%, Newar 3.2%, Bajjika 3%, Magar 3%, Doteli 3%, Urdu 2.6%, Avadhi 1.9%, Limbu 1.3%, Gurung 1.2%, Baitadeli 1%, other 6.4%, unspecified 0.2% (2011 est.) Note: many in government and business also speak English
Religions:
Hindu 81.3%, Buddhist 9%, Muslim 4.4%, Kirant 3.1%, Christian 1.4%, other 0.5%, unspecified 0.2% (2011 est.)
Population:
30,327,877 (July 2020 est.)
country comparison to the world: 46
Age structure:
0-14 years: 28.36% (male 4,526,786/female 4,073,642)
15-24 years: 20.93% (male 3,276,431/female 3,070,843)
25-54 years: 38.38% (male 5,251,553/female 6,387,365)
55-64 years: 6.64% (male 954,836/female 1,059,360)
65 years and over: 5.69% (male 852,969/female 874,092) (2020 est.)
Government type:
Federal parliamentary republic
Capital:
Kathmandu
Time difference:
UTC+5.75 (10.75 hours ahead of Washington, DC during Standard Time)
Independence:
1768 (unified by Prithvi Narayan SHAH)
Economy – overview:
Nepal is among the poorest and least developed countries in the world, with about one-quarter of its population living below the poverty line. Agriculture is the mainstay of the economy, providing a livelihood for three-fourths of the population and accounting for a little over one-third of GDP. Industrial activity mainly involves the processing of agricultural products, including pulses, jute, sugarcane, tobacco, and grain. Nepal has considerable scope for exploiting its potential in hydropower, with an estimated 42,000 MW of feasible capacity, but political instability hampers foreign investment. Additional challenges to Nepal's growth include its landlocked geographic location, civil strife and labor unrest, and its susceptibility to natural disaster.
GDP (purchasing power parity):
$79.19 billion (2017 est.)
GDP – per capita (PPP):
$2,700 (2017 est.)
Source:
CIA World Factbook