Mongolia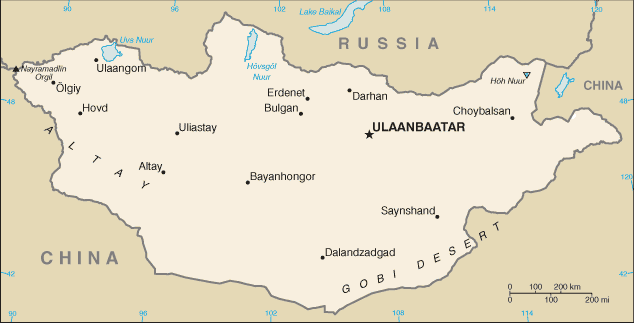 Background:
The Mongols gained fame in the 13th century when under Chinggis KHAN they established a huge Eurasian empire through conquest. After his death the empire was divided into several powerful Mongol states, but these broke apart in the 14th century. The Mongols eventually retired to their original steppe homelands and in the late 17th century came under Chinese rule. Mongolia won its independence in 1921 with Soviet backing and a Communist regime was installed in 1924. The modern country of Mongolia, however, represents only part of the Mongols' historical homeland; more Mongols live in the Inner Mongolia Autonomous Region in the People's Republic of China than in Mongolia. Following a peaceful democratic revolution, the ex-Communist Mongolian People's Revolutionary Party (MPRP) won elections in 1990 and 1992, but was defeated by the Democratic Union Coalition (DUC) in the 1996 parliamentary election. The MPRP won an overwhelming majority in the 2000 parliamentary election, but the party lost seats in the 2004 election and shared power with democratic coalition parties from 2004-08. The MPRP regained a solid majority in the 2008 parliamentary elections but nevertheless formed a coalition government with the Democratic Party. The prime minister and most cabinet members are MPRP members.
Location:
Northern Asia, between China and Russia
Area:
Total: 1,564,116 sq km
Climate:
Desert; continental (large daily and seasonal temperature ranges)
Ethnic groups:
Khalkh 84.5%, Kazak 3.9%, Dorvod 2.4%, Bayad 1.7%, Buryat-Bouriates 1.3%, Zakhchin 1%, other 5.2% (2015 est.)
Languages:
Mongolian 90% (official) (Khalkha dialect is predominant), Turkic, Russian (1999)
Religions:
Buddhist 53%, Muslim 3%, Shamanist 2.9%, Christian 2.2%, other 0.4%, none 38.6% (2010 est.)
Population:
3,168,026 (July 2020 est.)
Country comparison to the world: 135
Age Structure:
0-14 years: 26.96% (male 435,596/female 418,524)
15-24 years: 14.93% (male 239,495/female 233,459)
25-54 years: 45.29% (male 694,481/female 740,334)
55-64 years: 8.04% (male 115,560/female 139,129)
65 years and over: 4.78% (male 60,966/female 90,482) (2020 est.)
Government type:
Semi-presidential republic
Capital:
Ulaanbaatar
Time difference:
UTC+8 (13 hours ahead of Washington, DC, during Standard Time)
Independence:
29 December 1911 (independence declared from China; in actuality, autonomy attained); 11 July 1921 (from China)
Economy:
Economic activity in Mongolia has traditionally been based on herding and agriculture – Mongolia's extensive mineral deposits, however, have attracted foreign investors. The country holds copper, gold, coal, molybdenum, fluorspar, uranium, tin, and tungsten deposits, which account for a large part of foreign direct investment and government revenues. Soviet assistance, at its height one-third of GDP, disappeared almost overnight in 1990 and 1991 at the time of the dismantlement of the USSR. The following decade saw Mongolia endure both deep recession, because of political inaction and natural disasters, as well as economic growth, because of reform-embracing, free-market economics and extensive privatization of the formerly state-run economy. Severe winters and summer droughts in 2000-02 resulted in massive livestock die-off and zero or negative GDP growth. This was compounded by falling prices for Mongolia's primary sector exports and widespread opposition to privatization. Growth averaged nearly 9% per year in 2004-08 largely because of high copper prices and new gold production. In 2008 Mongolia experienced a soaring inflation rate with year-to-year inflation reaching nearly 30% – the highest inflation rate in over a decade. By late 2008, as the country began to feel the effects of the global financial crisis, falling commodity prices helped lower inflation, but also reduced government revenues and forced cuts in spending. In early 2009, the International Monetary Fund reached a $236 million Stand-by Arrangement with Mongolia, and the country has started to move out of the crisis, although the banking sector remains unstable. In October 2009, the government passed long-awaited legislation on an investment agreement to develop Mongolia's Oyu Tolgoi mine, considered to be one of the world's largest untapped copper deposits. Mongolia's economy continues to be heavily influenced by its neighbors. Mongolia purchases 95% of its petroleum products and a substantial amount of electric power from Russia, leaving it vulnerable to price increases. Trade with China represents more than half of Mongolia's total external trade – China receives about two-thirds of Mongolia's exports. Remittances from Mongolians working abroad are sizable, but have fallen due to the economic crisis; money laundering is a growing concern. Mongolia joined the World Trade Organization in 1997 and seeks to expand its participation in regional economic and trade regimes.
GDP (purchasing power parity):
$43.54 billion (2018)
GDP – per capita (PPP):
$17,500 (2017 est.)
Source:
CIA World Factbook