Kuwait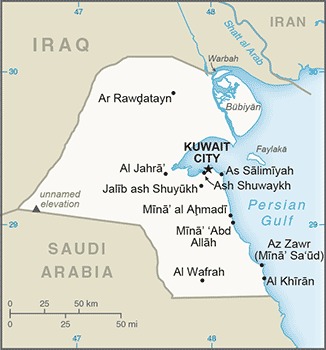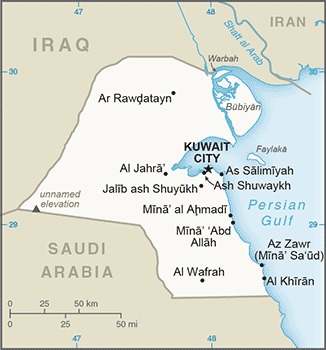 Background:
Britain oversaw foreign relations and defense for the ruling Kuwaiti AL-SABAH dynasty from 1899 until independence in 1961. Kuwait was attacked and overrun by Iraq on 2 August 1990. Following several weeks of aerial bombardment, a US-led, UN coalition began a ground assault on 23 February 1991 that liberated Kuwait in four days. Kuwait spent more than $5 billion to repair oil infrastructure damaged during 1990-91. The AL-SABAH family has ruled since returning to power in 1991 and reestablished an elected legislature that in recent years has become increasingly assertive. The country witnessed the historic election in May 2009 of four women to its National Assembly. Amid the 2010-11 uprisings and protests across the Arab world, stateless Arabs, known as bidoon, staged small protests in February and March 2011 demanding citizenship, jobs, and other benefits available to Kuwaiti nationals. Youth activist groups – supported by opposition legislators and the prime minister's rivals within the ruling family – rallied repeatedly in 2011 for an end to corruption and the ouster of the prime minister and his cabinet. Opposition legislators forced the prime minister to resign in late 2011. In October-December 2012, Kuwait witnessed unprecedented protests in response to the Amir's changes to the electoral law by decree reducing the number of votes per person from four to one. The opposition, led by a coalition of Sunni Islamists, tribalists, some liberals, and myriad youth groups, boycotted the December 2012 legislative election, resulting in a historic number of Shia candidates winning seats. Since 2006, the Amir has dissolved the National Assembly on five occasions (the Constitutional Court annulled the Assembly once in June 2012) and reshuffled the cabinet 12 times, usually citing political stagnation and gridlock between the legislature and the government.
Location:
Middle East, bordering the Persian Gulf, between Iraq and Saudi Arabia
Area:
17,818 sq km
Climate:
Dry desert; intensely hot summers; short, cool winters
Ethnic groups:
Kuwaiti 30.4%, other Arab 27.4%, Asian 40.3%, African 1%, other .9% (includes European, North American, South American, and Australian) (2018 est.)
Languages:
Arabic (official), English widely spoken
Religions:
Muslim (official) 74.6%, Christian 18.2%, other and unspecified 7.2% (2013 est.)
Population:
2,993,706 (July 2020 est.)
country comparison to the world: 138
Age structure:
0-14 years: 24.29% (male 378,778/female 348,512)
15-24 years: 14.96% (male 245,354/female 202,642)
25-54 years: 52.39% (male 984,813/female 583,632)
55-64 years: 5.43% (male 90,583/female 72,026)
65 years and over: 2.92% (male 38,614/female 48,752) (2020 est.)
Government type:
Constitutional monarchy (emirate)
Capital:
Kuwait City
Time difference:
UTC+3 (8 hours ahead of Washington, DC during Standard Time)
Economy – overview:
Kuwait has a geographically small, but wealthy, relatively open economy with crude
oil reserves of about 102 billion barrels – about 7% of world reserves.
Petroleum accounts for nearly half of GDP, 95% of export revenues, and 95% of
government income. Kuwaiti officials have committed to increasing oil production
to 4 million barrels per day by 2020. The rise in global oil prices throughout 2011
and 2012 is reviving government consumption and economic growth. Kuwait has
experienced a 20% increase in government budget revenue, which has led to higher
budget expenditures, particularly wage hikes for many public sector employees.
Kuwait has done little to diversify its economy, in part, because of this positive
fiscal situation, and, in part, due to the poor business climate and the historically
acrimonious relationship between the National Assembly and the executive branch,
which has stymied most movement on economic reforms. In 2010, Kuwait passed an
economic development plan that pledges to spend up to $130 billion over five years
to diversify the economy away from oil, attract more investment, and boost private
sector participation in the economy.
GDP (purchasing power parity):
$289.7 billion (2017 est.)
GDP – per capita (PPP):
$65,800 (2017 est.)
Source:
CIA World Factbook